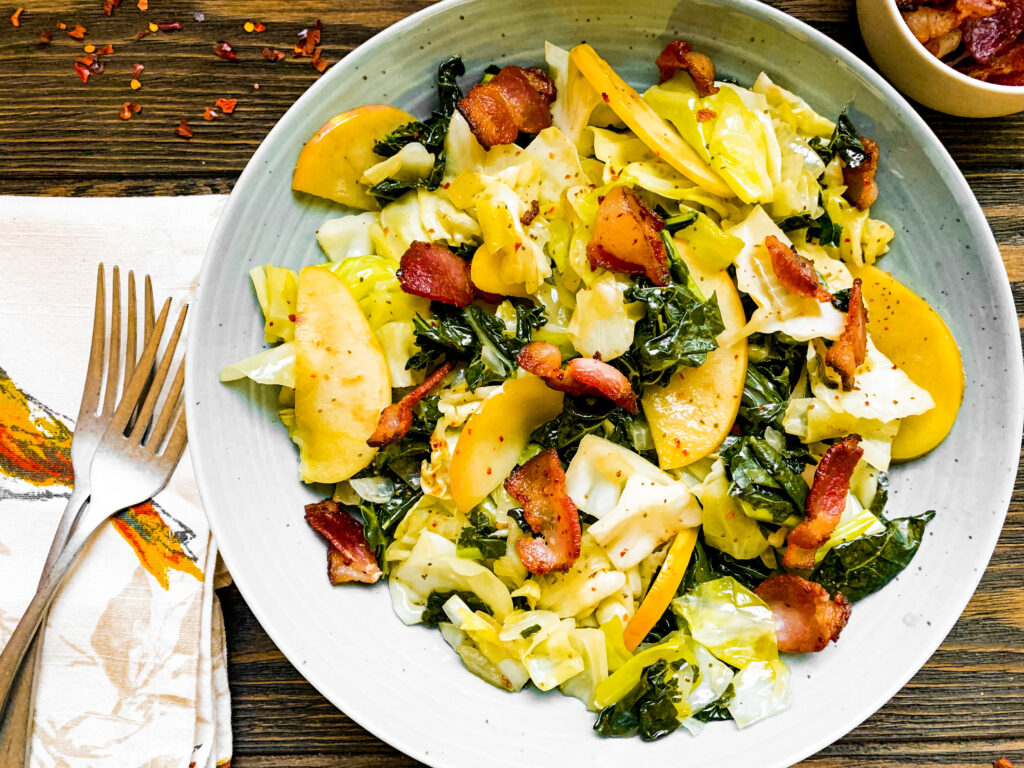 Caramelized cabbage and onions paired with kale and sweet-tart apples create the perfect side full of fall flavors.
Southern Influence, California Inspired
My Braised Cabbage and Kale is one of my favorite dishes to cook and is a riff on my Granny's fried cabbage and is a little bit southern and a little bit Cali. It's a great dish that's deeply flavorful and a great vegan option but if you need some bacon in your life, I got you covered so keep reading.
Cabbage? Cabbage!
I love cabbage and it just doesn't get the love it deserves. Cabbage is one of the most underrated greens, usually getting overshadowed by superstar greens like kale, but don't sleep on cabbage. Cabbage is super versatile, it's a value vegetable and can go a long way. Cabbage is also packed with nutrients—like almost all vegetables—and is a good source of fiber, iron, vitamin C, and vitamin K. With the combined green powers of cabbage and kale, you're still riding the health train even if you sprinkle some bacon on this dish.
How Do You Braise Cabbage?
Braising isn't just for meat. This slow-cooking method—which combines searing/sauteing (dry heat) then cooking slowly in a small amount of liquid (moist heat)—can be used for a variety of vegetables. The gentle cooking in this recipe helps to caramelize and deepen the flavors of the cabbage and onions so their natural sweetness shines. Layer that with the earthiness of kale, some quickly fried apples, and a little tang from the vinegar, this dish is a sweet and savory harvest. Here's how you cook it:
Cut your cabbage in half and remove the core. Place half the head on a cutting board, cut side down, slice it crosswise into 4 wide ribbons, rotate the head and cut the ribbons into cubes. Repeat for the other half.
Rough chop your kale; thinly slice onion; and slice apples in the shape of half moons, no need to peel.
Warm your oil/bacon drippings over medium heat
Add onions and cabbage and let them caramelize and get slightly golden, about 20+ minutes; add broth then kale.
Start apple "sauce" by combining the apple cider vinegar, sugar, butter and apples; and add to greens.
Viola!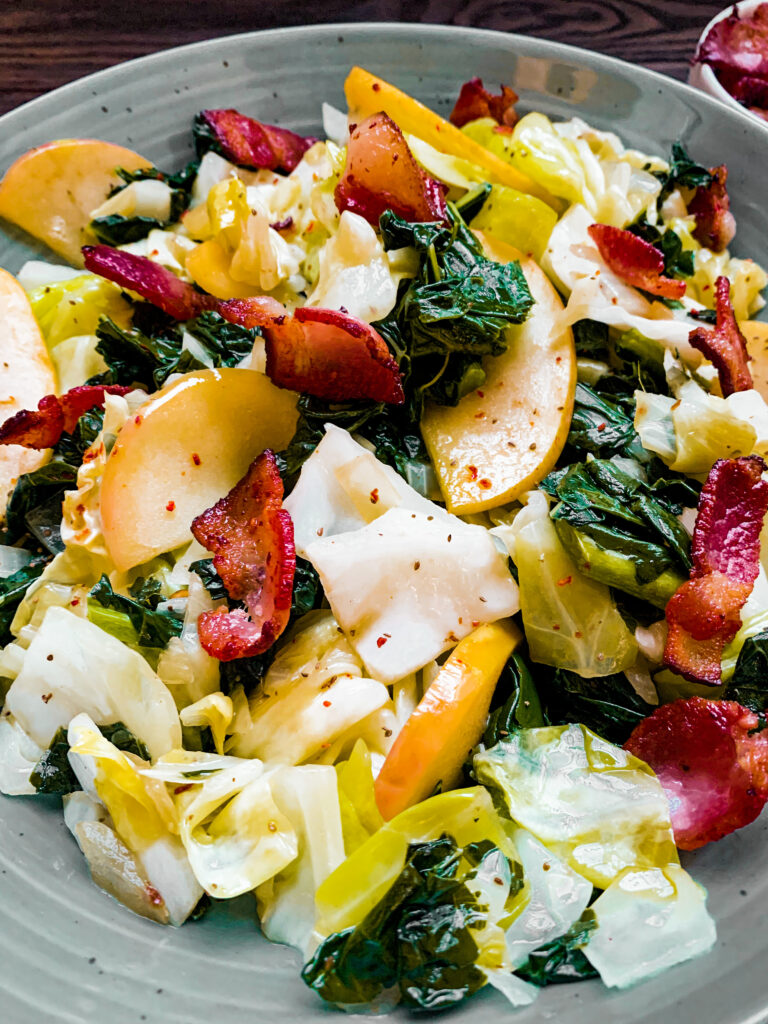 Side Notes
You'll need a large heavy bottomed skillet like a cast iron or Dutch oven that holds at least 3.5-4 quarts
This is a great vegan dish. However, bacon is a wonderful addition! Brown 4-5 slices of bacon in skillet/pot; remove bacon and chop; cook onions and cabbage in bacon drippings, instead of the 3 tablespoons of oil. Once the dish is finished, sprinkle with bacon.
What type of apple should I use? You want your apples to be sweet, tart and not break down too quickly when cooking so apples like Honeycrisp, Braeburn or Granny Smith are ideal.
Can I use any type of Kale? Yes! Any type of kale is good for this recipe. I like using lacinato kale—aka dinosaur kale, tuscan kale, black kale— because it's great for braising, has an earthy and nutty flavor, has a hint of sweetness and isn't as bitter as other varieties of kale. You'll commonly find curly at the market but if you can find lacinato kale, which has dark flatter leaves, go for it!
Don't like kale? No worries. Use chard or collards. If using collards, cut them in small-ish pieces and add to the pot at the same time as the cabbage. Collards are tougher than kale and need more time to break down.
Want a shortcut? Grab a bag of pre-cut/shredded cabbage or kale in your produce aisle. If cabbage or kale is shredded you may need to adjust your cooking time because shredded greens will cook faster.
My favorite recipes are those where you only need a few simple ingredients to make something magical and soulful and this dish fits the bill. Have a bowl with some cornbread or pair it with chicken, pork, or fish. However you decide to eat it, your belly will be satisfied. Are you ready to eat yet? Let's go!
Tools Needed
Print
4–5 slices of bacon, cooked, chopped, fat reserved (optional)
3 tablespoons olive oil (if using bacon, use reserved bacon fat)
1 small head of green cabbage, cored and chopped
1 bunch kale, stemmed and chopped 
1 small yellow onion, sliced
1/2 teaspoon garlic powder
1/2 teaspoon celery seed
1/4–1/2 teaspoon red pepper flakes
½ teaspoon salt + more to taste
Pepper to taste
1 cup of broth (vegetable or chicken)
3–4 tablespoons apple cider vinegar 
3 tablespoons of butter (dairy or vegan) 
1 tablespoon of brown sugar (light or dark is fine)
1 large tart apple, cored and sliced (Honeycrisp, Braeburn or Granny Smith)
---
Instructions
In a large cast iron skillet, Dutch oven or heavy bottom pot over medium-high heat, add oil.  Once oil is heated, add onion and cook 2-3 minute, until onions start to soften.
Add cabbage and season with pepper flakes, celery seed and ½ teaspoon of salt. Stir to combine onion and cabbage and add ½ cup of broth.  Cover, reduce heat to medium and cook  for 17 to 20 minutes. minutes.  Cabbage and onion will  start to caramelize. During this time check and stir to ensure cabbage and onion are not sticking. Add a little more broth to prevent sticking.
Add kale, remaining broth, and a pinch of salt and pepper.  Stir, cover with lid and cook for another 10-15 minutes.  
While kale and cabbage are cooking, start on apples.
In a small skillet melt butter, vinegar, sugar over medium-high heat and reduce about 1-2 minutes. Add apples.   Give a good toss so apples are coated.  Cook about 1-2 minutes, until apples are crisp-tender.
Gently combine apples with cabbage and kale.  Season with more salt and pepper if needed.
Remove from heat and place cabbage and kale into a serving bowl. Top with chopped bacon if desired.
Prep Time: 10
Cook Time: 35
Category: Sides
Cuisine: North American