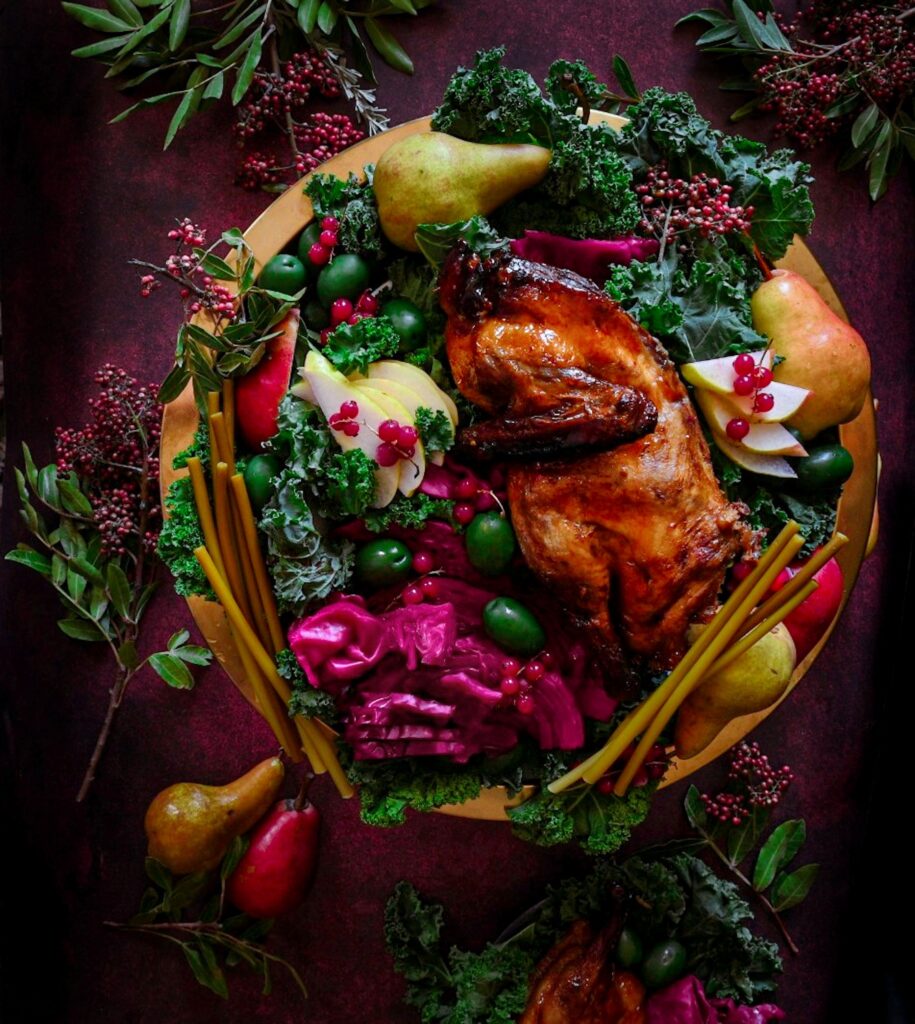 Ever wondered how to cook duck? Now's a good time to learn and you'll find it much easier than you think. This recipe draws inspiration from Ukranian and Asian cuisines and combines a beautiful marinade of chilis, soy, honey, and garlic. With seasoned pears nestled all around this roast duck with tender, juicy meat and perfectly crisp skin will be the perfect holiday main dish or for any time you feel like making something special.
Thank you to Anisa of The Wonky Stove for sharing this wonderful recipe!
A Feast for the Holidays
After spending countless times smiling with and drooling over Stefani's posts on her Instagram feed @savorandsage I was thrilled to be invited as a guest blogger for her holiday recipe roundup. At first, my mind went racing because we grew up celebrating the holidays that marked both the Greek Orthodox and Jewish Calendar. The only solution was to focus on the New Year's table; a big feasting, gifting, and lively holiday in many former Soviet households (spanning the enormous width of the 7 times zones that made up the USSR). One staple and ABSOLUTE must is: roast duck with apples.
New Years is celebrated with an abundance of food, gifts, a tree—much like a Christmas tree— and greetings from Ded Moroz and his granddaughter Snegurachka ( translated to Grandfather Frost and Snowmaiden). Sometimes in children's New Years' productions Baba Yaga, a supernatural old woman/witch who lives deep in the woods in a hut on chicken legs and flies through the air in a pestle, appears, only to thwart the magic that Ded Moroz brings on New Year's Day. She of course never succeeds. As I type it out I have to smile to myself at the theatrics and drama and encourage readers to seek out translated text, movies, or cartoons like Ivan Ivanov-Vano's 1956 children's classic "The 12 Months".

However, this duck is a much simpler thing to explain. My grandfather traveled as a civilian doctor and was stationed for a significant time in the Russian city of Vladivostok, located at the far eastern end of Russian off the Sea of Japan and next to China. Soviet food and culture are heavily influenced by Chinese flavors of the far eastern Russian. This duck combines these inspirations in the marinade of chilis, soy, honey, and garlic with the swap out for pears instead of apples. Pears hold their shape better after roasting and play well with the gamey sweetness of duck. Rather than roasting a whole duck, I opt to spatchcock the bird. It can be tricky at home to achieve the much fought over crispy skin and pope's nose (that fatty wonderfully crisp stub at the end of the duck). Pickles are a popular feature on any Slavic table and here I paired it with cheremsha (pickled ramsons/wild garlic) and whole pickled cabbage, dyed red with beets. Both of these items can be found at your local Russian or eastern European food store. If you can't find either jarred giardiniera would be fantastic here too.
Print
1 4-5lb duck
2 tbsp honey
1 tbsp spicy red pepper paste or dried chilli flakes
1/3 cup soy sauce
Juice of half an orange
1 tbsp garlic powder
4 pears, halved
---
Instructions
Combine all ingredients for the marinade in a bowl and set aside.
The duck: You can either ask your butcher to spatchcock/butterfly your bird or give it a go at home! Carefully on a steady no-slip surface with a pair of good kitchen sheers move up the spine. Once the bird is open, place it rib side down and press confidently on the chest to flatten.
Cut off any excess skin or fat. For a  bonus treat, take the excess skin and fat and roast separately to render the fat. Use it to cook potatoes and enjoy a cook's snack of duck skin cracklings. 

Carefully slide your fingers underneath the skin and fat of the breast meat. This will separate the skin and fat from the meat and help the crisping process in the oven. Place bird into a deep vessel that can be refrigerated.  At this stage apply the marinade under the skin and to the remainder of the duck. Cover and refrigerate overnight or for at least 5 hours. Note: marinade duck breast side down.
Preheat oven to 425F
Toss pears in 1 tbsp oil, salt and pepper (prepped same day of roasting)
Place Duck breast side up and surround with seasoned and halved pears.
Bake for 15 minutes. Remove, baste and lower oven to 350F and cook an additional 45-50minutes or until internal temp reads 165F. Allow to rest before carving.*
*Adjust cooking time depending on the size of your duck. Rule of thumb is 22 minutes per pound.
Method: