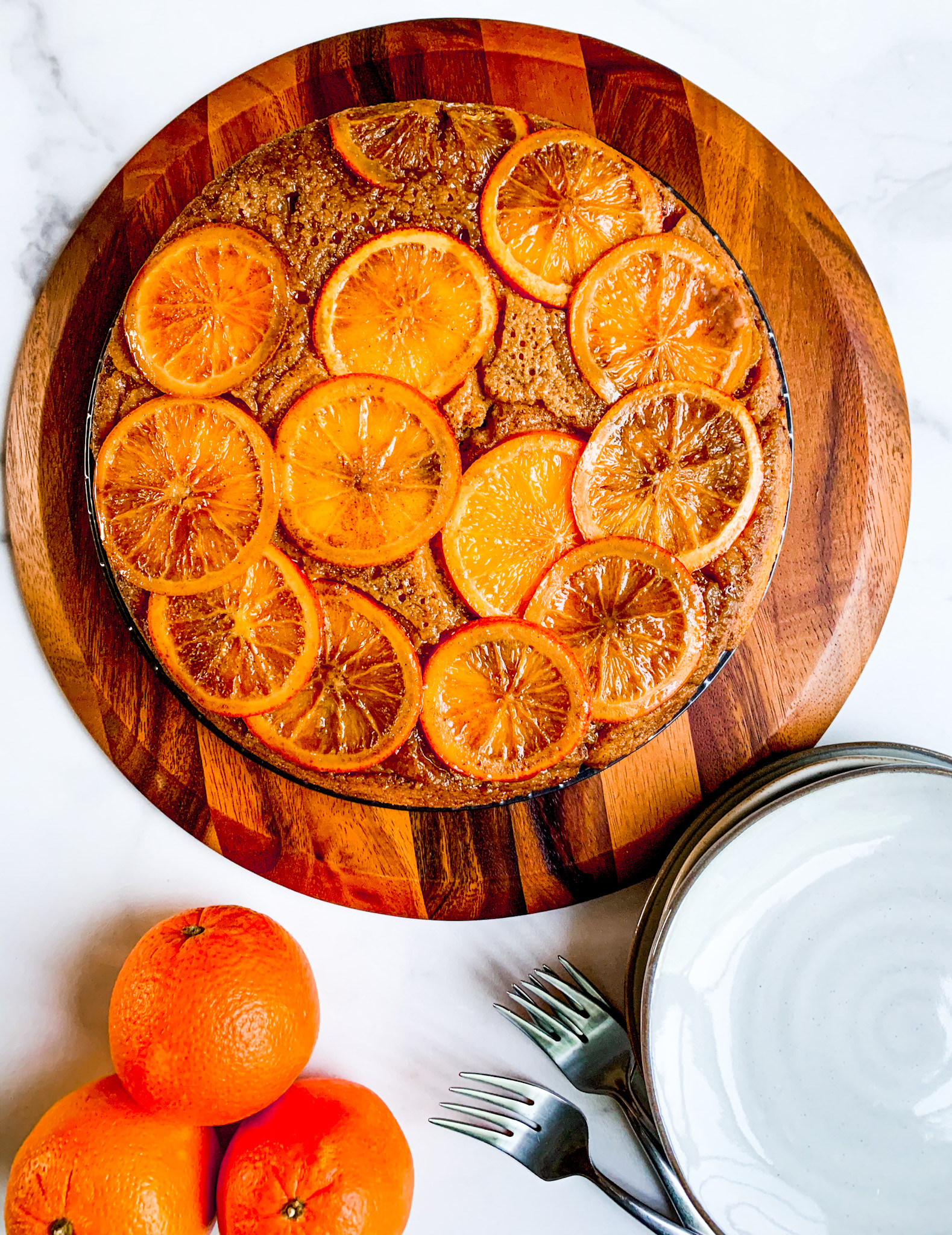 This easy, decorated, citrus beauty is the perfect easy dessert for a casual dinner or fancy affair.
Print
Topping
5 tablespoons unsalted butter
1 cup sugar (brown-firmly packed or granulated)
2 Oranges (sliced thin)
¼ cup juice or water (orange, apple, or reserved juice from canned fruit)
Optional additions: cinnamon, nutmeg, vanilla, citrus zest (orange or lemon)
Cake
1 ½ cups flour
1 ½ teaspoons baking powder
½ teaspoon baking soda
¼ teaspoon of salt
1 cup granulated sugar
1 stick unsalted butter (melted)
1 teaspoon vanilla extract
2 eggs (room temperature)
1 cup milk (room temperature. can be dairy or non-dairy milk. you can also use buttermilk, yogurt, or sour cream)
---
Instructions
Preheat the oven to 350°F. You need a 10-inch cast-iron skillet or 9-inch cake or pie pan. If using a cake or pie pan, butter and line the bottom of the pan with a round of parchment paper and butter that as well.
In a small pot or cast iron skillet (if using), melt sugar, 5 tablespoons butter, spices and reserved juice; spread into pan or skillet. Arrange fruit over top.
In a large bowl, whisk together flour, sugar, baking powder, baking soda and salt. In another bowl, whisk together egg, vanilla, milk and remaining butter. Add to dry ingredients; stir just until moistened. Spoon over fruit.

Bake 35-45 minutes or until a toothpick inserted in the center comes out clean. Cool about 10 minutes before inverting onto a serving plate. Serve warm or at room temperature.
Prep Time: 10
Cook Time: 45
Category: Dessert
Cuisine: North American