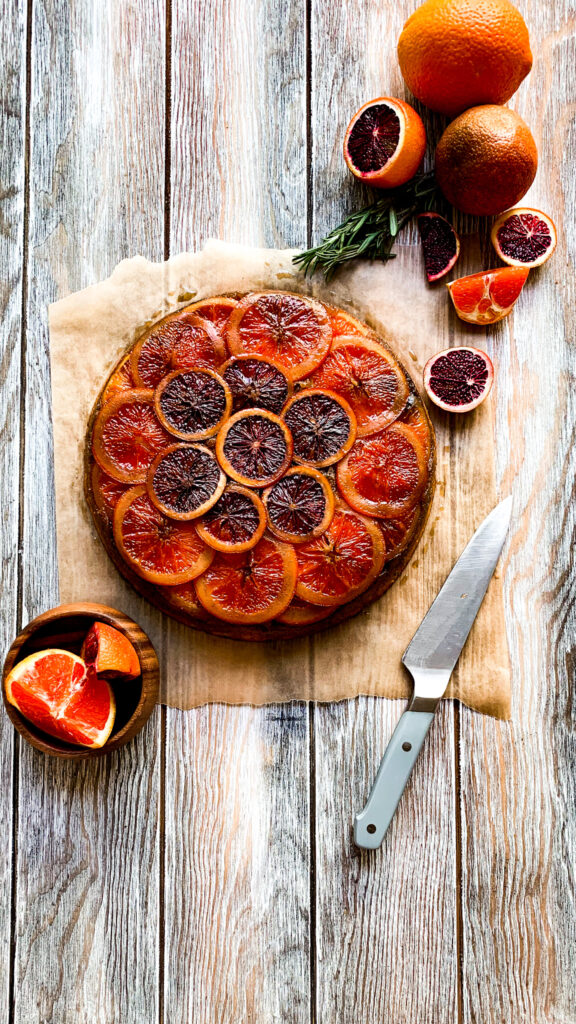 ---
Who wouldn't love a cake that's easy, moist, and pops out of the pan fully decorated? Well, you're going to love this buttery citrus kissed with little flecks of rosemary.  It's the perfect dessert for a casual dinner or fancy affair. 
---
What Ingredients Do You Need For Orange Rosemary Upside Down Cake?
Oranges
 Flour
Leavening Agents- baking powder and soda
Fresh rosemary 
Sugar- White and brown
Unsalted butter 
Vanilla 
Eggs 
Yogurt
---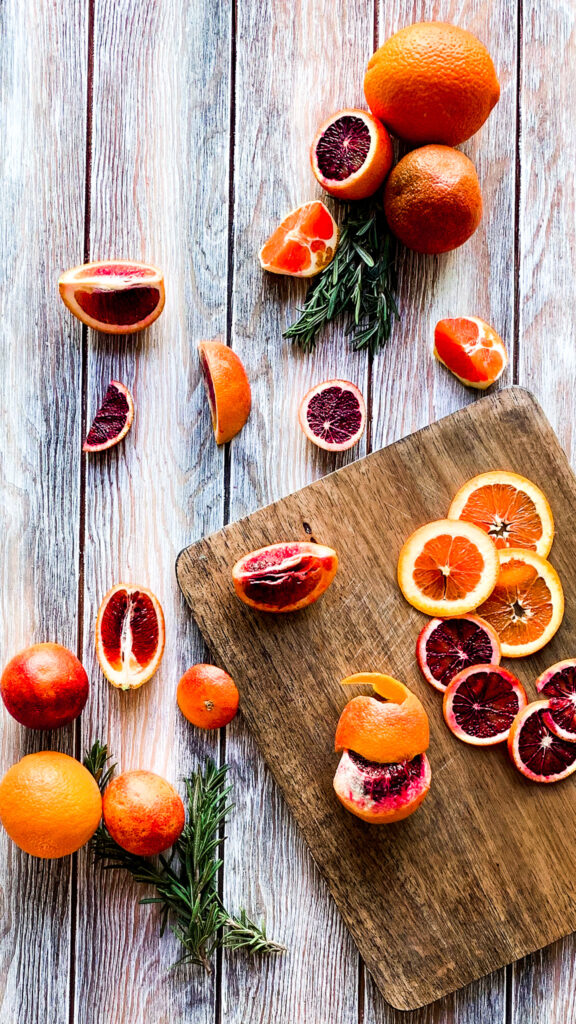 ---
A Few Recipe Tips for Orange Upside-Down Cake
Oranges- You can use any citrus you like from blood oranges, cara cara oranges, navel, kumquats or lemon. For this recipe I used blood and cara cara oranges.
Room Temperature- Your butter, eggs, and yogurt should be at room temperature. Having these ingredients at room temperature helps them to incorporate much better
Whip it good- Cream butter and sugar on high speed for at least 5-7 minutes. You want to keep things light and fluffy. You want to cream the butter and sugar enough so that the sugar crystals cut through the butter making it fluffier. You'll start to see the mixture change from very yellow to a pale yellow to white color.
Don't Overmix- For this recipe I take my time and don't over mix. When it comes to the dry ingredients and yogurt, I like to fold them in. This batter is very workable so it doesn't take a lot of mixing for them to get incorporated into the batter.
My personal preference is to eat this cake slightly warmed. It is soooo darn good.
Vanilla ice cream or lightly sweetened whip cream are perfect pairs with this cake.
 and This cake is the perfect mate for either a big dollop of whipped cream or a nice scoop of ice cream so temper it's citrusy zing.
---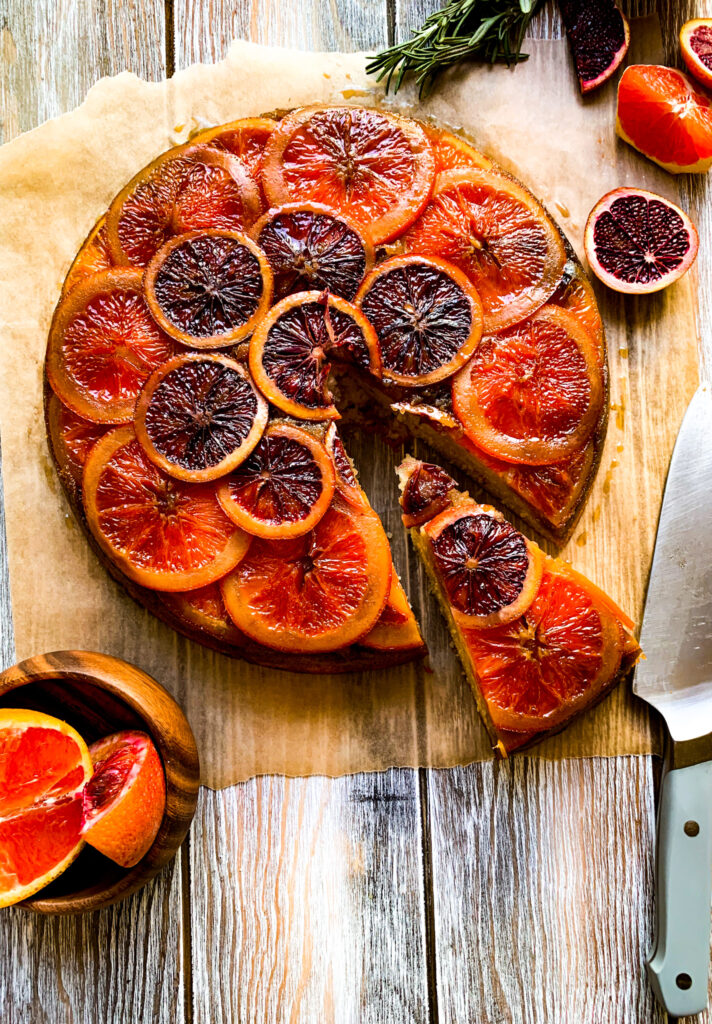 Tools Needed
Mixing bowls
Hand mixer
10 inch cast iron or 9 inch cake pan
---
Other Easy Dessert Recipes 
---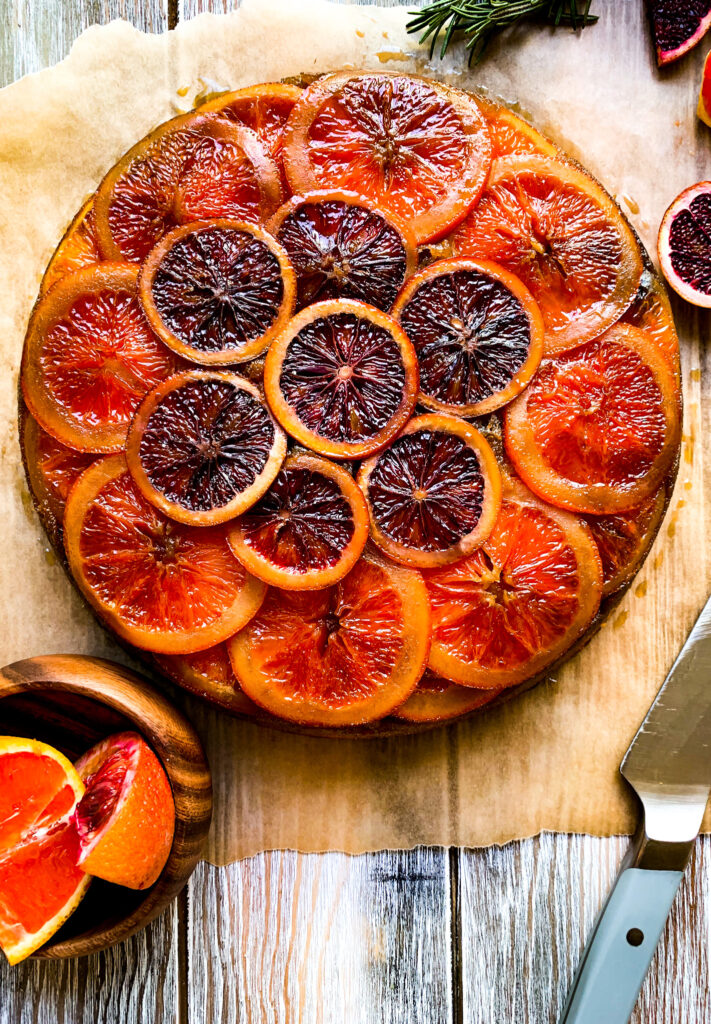 Print
Topping
5 tablespoons unsalted butter
1 cup packed brown sugar (brown-firmly packed or granulated)
2 Oranges (sliced thin)
Juice of one orange water
Cake
1 ½ cups flour
1 ½ teaspoons baking powder
½ teaspoon baking soda
¼ teaspoon of salt
2 teaspoons of fresh rosemary finely chopped
1 cup granulated sugar
1 stick unsalted butter (room temperature)
1 teaspoon vanilla extract
1 teaspoon of orange zest
2 teaspoons orange juice (you can also use lemon for little more tang)
2 eggs (room temperature)
 
1 cup full fat yogurt (room temperature. You can also use  buttermilk, sour cream or a non-dairy substitute.)
---
Instructions
Preheat the oven to 350°F. You need a 10-inch cast-iron skillet or 9-inch cake or pie pan. If using a cake or pie pan, butter and line the bottom of the pan with a round of parchment paper and butter that as well.
In a small pot or cast iron skillet (if using), melt 5 tablespoons butter, sugar and reserved juice. Stir until sugar is dissolved.  Spread into pan or skillet. Arrange fruit over top.
In a medium bowl, whisk together flour, baking powder, baking soda, rosemary, and salt. In a large bowl and using a hand mixer, cream the butter and remaining sugar until light and fluffy, about 7 minutes. Add eggs one at a time until just combined. Add vanilla, remaining juice and mix until combined.
Alternate folding in half dry ingredients and yogurt. End with dry ingredients. Do not over mix. It will only take a few turn to combine.
Spoon the batter over fruit.

Bake 35-45 minutes or until a toothpick inserted in the center comes out clean. Cool about 10 minutes before inverting onto a serving plate. Serve warm or at room temperature.
Prep Time: 10
Cook Time: 45
Category: Dessert
Cuisine: North American