Loaded with perfectly cooked pasta, juicy tomatoes, crunchy veggies, briny olives, and a creamy tangy homemade Italian dressing, this colorful and delicious creamy Italian pasta salad will be your  go-to dish all summer long. 
---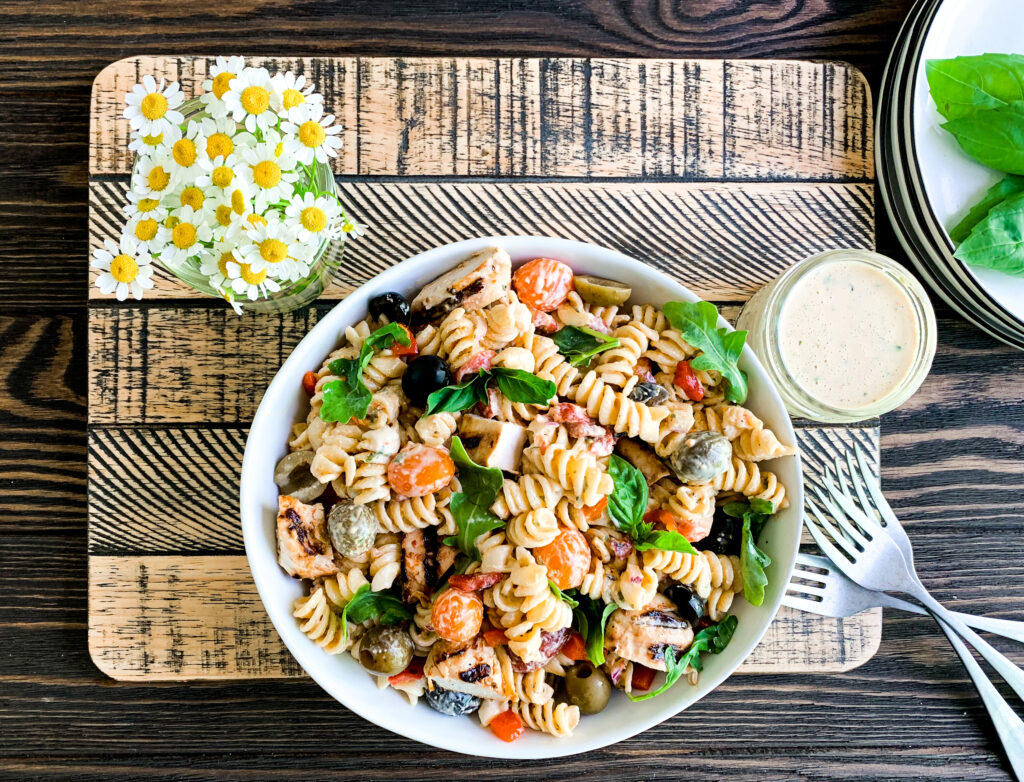 ---
the inspiration
The inspiration for this pasta salad started with teenage love. Yep, you heard me right, teenage love. One day after school while me and my high school boyfriend Troy were hanging out and playing video games, I'm sure we were probably supposed to be studying, we got hungry. He decided to make some pasta, throw in some green beans, corn and iceberg lettuce, mixed together some Italian dressing and mayonnaise and tossed all of it together. Now it may have been I was just super hungry but that salad seemed like the best pasta salad EVER. Since my high school days I've made the salad my own over the years with a few changes. Check them out!
---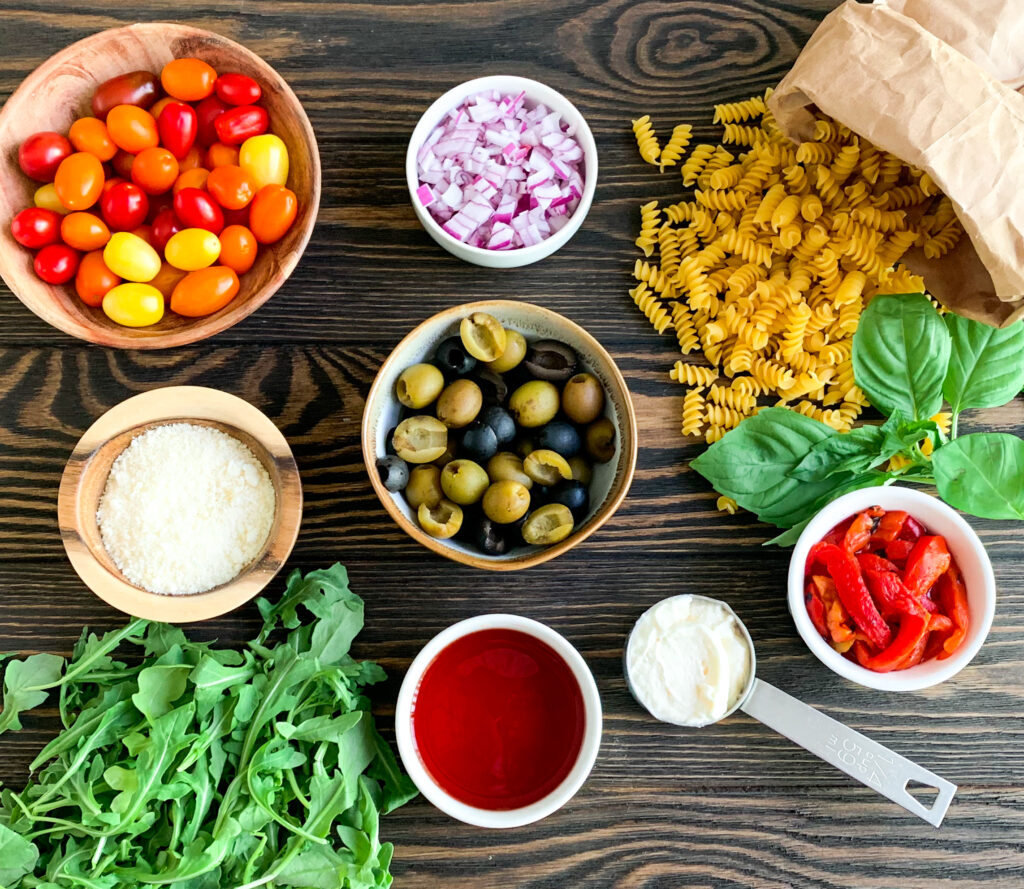 what goes in pasta salad?
One thing that I love about pasta salad is that you can really mix and match ingredients to your heart's desire. My Italian pasta salad has—wait for it—Italian flavors! My work of art has a burst of flavor from sweet & juicy cherry tomatoes, briny black and/or Castelvetrano olives and crunchy red bell peppers, and a pop of purple from the red onions. Here's what you'll need for this kinda-sorta Italian pasta salad:
Pasta! You want to use a short pasta for this salad and my favorites to use are rotini or radiatore. I love the way the nooks and crannies capture my herby, white wine-and-olive oil pasta salad dressing. Whew chile, it's goodt!
Veggies! Cherry tomatoes, red onion, and red bell pepper. It's so simple, bright and flavorful!
Olives! I am an olive monster; I love olives! Sometimes I use black olives, sometimes I use Castelvetrano olive—my fave— or sometimes I grab a mix of olives from the store's olive bar. Just make sure they're pitted!
be sure to select pitted olives.
Fresh parsley & fresh arugula (sometimes)—I love fresh parsley in this because it just adds another layer of freshness. The teenage version of this salad had iceberg lettuce but we're grown and sexy now so if you want to add a little sumthin' sumthin' to the mix, add a little arugula for a bright and peppery kick.
Salami or Grilled Chicken-—I usually keep this vegetarian but if you want to make this a WHOLE meal, I like to include cubed salami  or grill up some chicken that's been marinated in my creamy Italian dressing. 
---
let's make this  italian pasta salad
This is the perfect summer salad because there's very little cooking. Here'e how to make it:
Get the party started by whisking all of the ingredients for your creamy Italian dressing in a small bowl
Cook your pasta al dente and don't forget to salt your water.
While the pasta boils, prep the tomatoes, red onion, olives, and peppers.
Drain the pasta and run cold water over it to cool it quickly.
Let's Toss & Chill! Toss pasta, with all the yummy goodness that you've prepped. Add arugula, if you're using it, right before serving.
You can eat this pasta salad right away— I definitely have— but it's even better when you let it sit in the fridge, let the flavor sit and develop, and chill for about 30 minutes.
---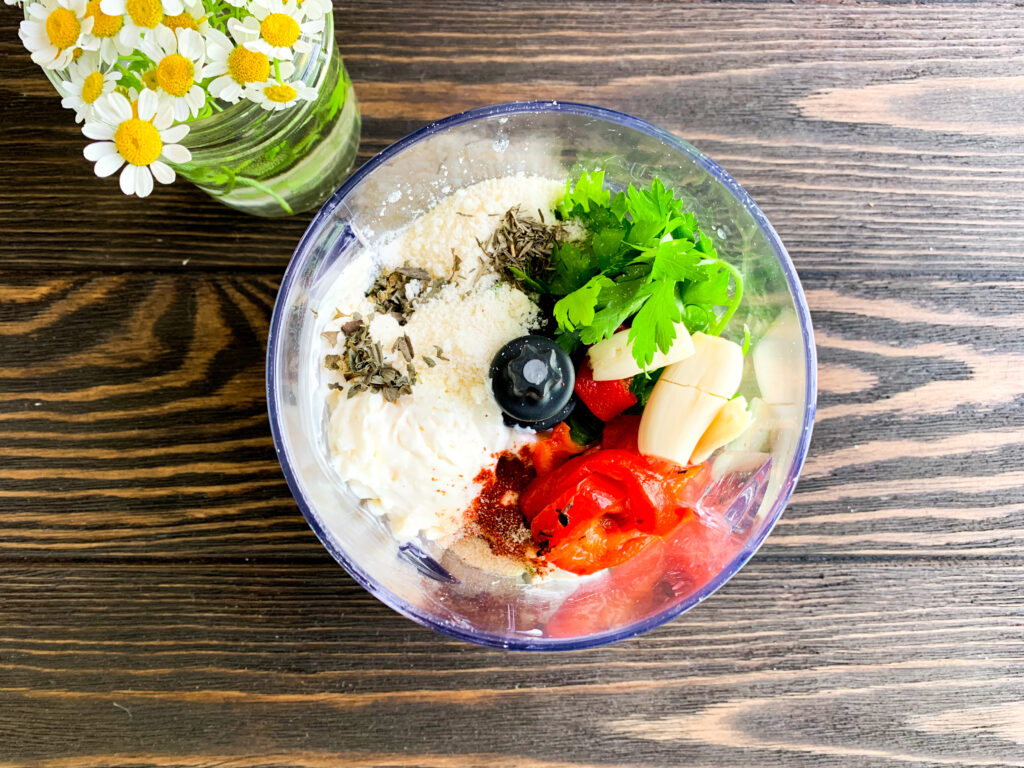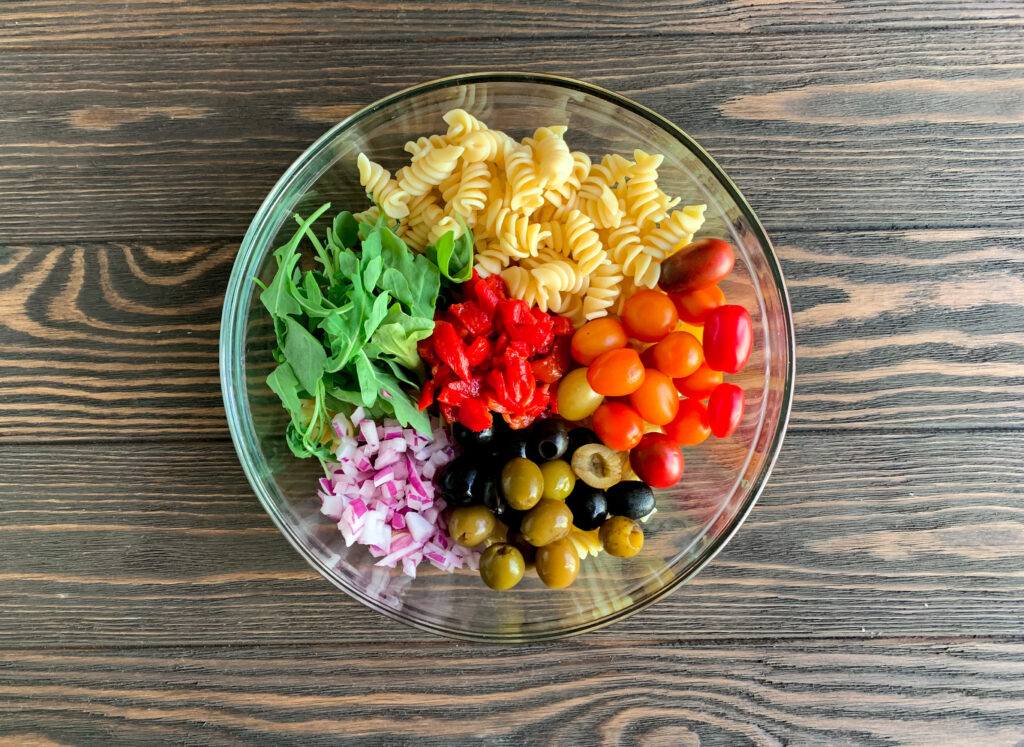 ---
make this italian pasta salad dressing and put it on everything!
Now the high school version of this salad was with a store-bought Italian dressing and using a store-bought Italian dressing to dress this salad up is totally fine, HOWEVER, my Italian dressing is BOMB and it only takes a few pantry staples to make this zingy, creamy, and simple homemade Italian pasta salad dressing. Just whisk or shake together:
Thyme (dried)
Oregano (dried)
Basil (dried)
Salt
Sugar (just a hint)
Parmesan (grated)
Extra virgin olive oil
White wine vinegar (you can use red wine vinegar as well)
Mayonnaise- mayo is what makes this dressing creamy. You can also use yogurt—which will be slightly more tart— or you can nix the creaminess all together and have more of a vinaigrette. It will still be delicious
---
tips
Make your dressing ahead. The dressing will keep a week in an airtight container in the refrigerator.
For an extra burst of freshness, you can add some arugula or baby spinach to the salad.
Feel free to experiment with different types of pasta such as penne
To make the salad more substantial, you can add chopped salami, grilled chicken or shrimp for added protein.
Toss in some marinated artichoke hearts, switch out the raw red bell pepper for roasted bell peppers, or add some grilled corn to mix it up.
This pasta salad will keep for 2-3 days in an airtight container in the refrigerator
---
other summer salad recipes
Now I know you have some BBQs, potlucks, get-togethers and pool parties on the horizon but don't go there empty handed. Bless the party with something other than potato salad. Here are a few more salads that celebrate all the flavors of summer:
---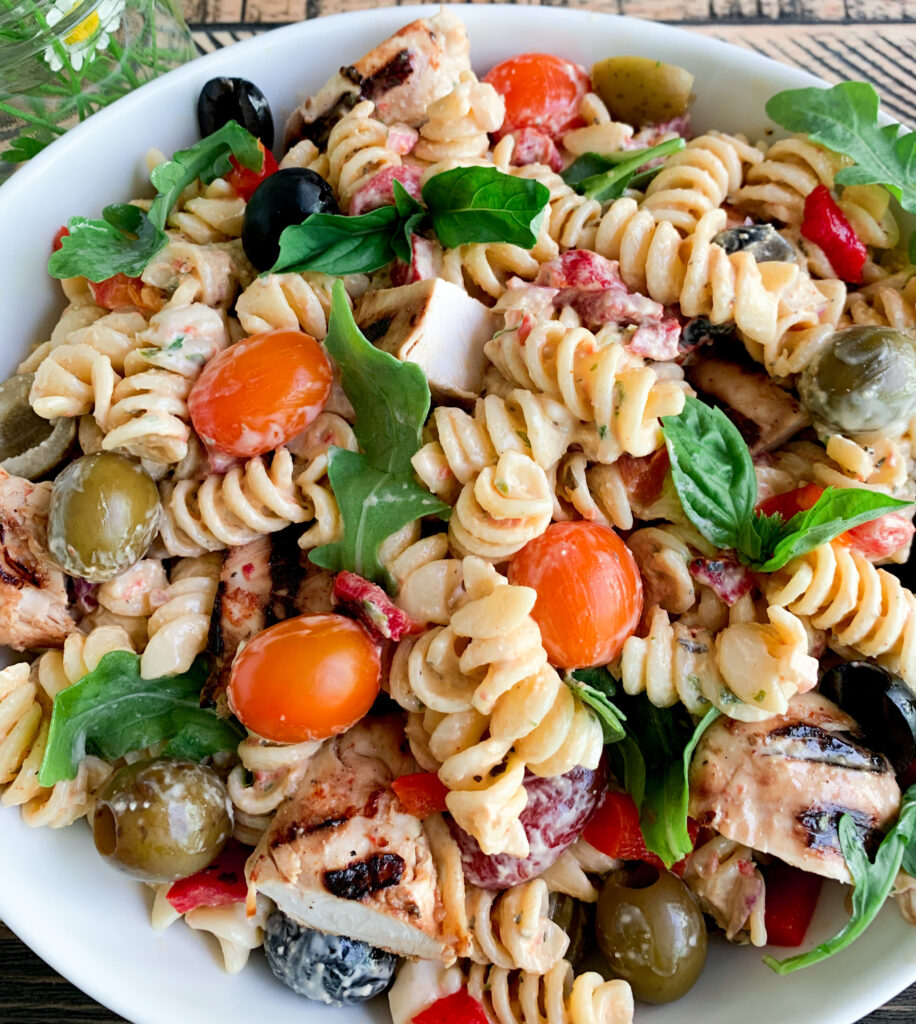 Print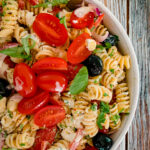 Creamy Italian Pasta Salad
---
Description
Loaded with perfectly cooked pasta, juicy tomatoes, crunchy veggies, briny olives, and a creamy tangy homemade Italian dressing, this colorful and delicious pasta salad will be your  go-to dish all summer long.
---
Salad
1 lb short pasta such as rotini or radiatore, cooked according to package and cooled
2 cups cherry tomatoes, halved
1 cup black or Castelvetrano olives, pitted
1/2 cup of red onion, thinly sliced
1/2 cup red bell peppers, thinly sliced
1/3 cup flat leaf parsley, chopped
Parmesan, grated (optional)
1 cup fresh arugula (optional)
Creamy Italian Dressing
1/3 cup + 2 tablespoons of red or white wine vinegar ( I use 1/3c white+2T red)
1/4 cup olive oil
1/3 + 2 tablespoons of mayonnaise (optional)
3 cloves of garlic, minced
1 teaspoon onion powder
1 teaspoon thyme, dried
1/2 teaspoon dried basil
1/4 teaspoon dried oregano
1 1/2-2 teaspoons sugar
2 tablespoons grated parmesan
Salt and pepper to taste
---
Instructions
Bring a large pot of salted water to a boil. Cook the pasta according to package directions. Drain and cool. 
Whisk or shake together all of the dressing ingredients in a bowl or jar. 
Add the cooled pasta, onions, red bell pepper, olives, tomatoes, to a large salad bowl. Pour half of the dressing over the pasta mix and toss well to combine. Taste and add more dressing if needed. Add salt and pepper to taste if needed as well. 
You can eat right away or let it sit in the fridge for at least 30 minutes. This is a "sittin' salad" so the longer it sits, the more the flavors marry.
Notes
If you want to add salami to this salad, use hard salami and cut in 1/4-inch thick slices

If you want to add chicken tenders or shrimp, marinate with 1/3 of the dressing and let sit at  room temperature for 10-15 minutes. Grill chicken tender or shrimp on your grill , grill pan, or skillet over  medium-high heat. Grill the chicken tenders or shrimp until cooked through, turning halfway through cooking, about 8-10 minutes  for the chicken tenders and 5-7 minutes for shrimp.
If making ahead and adding arugula, add the arugula right before serving. 
Prep Time: 15
Cook Time: 15
Category: Sides
Method: Mix
Cuisine: American
Keywords: pasta salad, pasta salad recipe, best pasta salad, potluck recipe, summer recipe