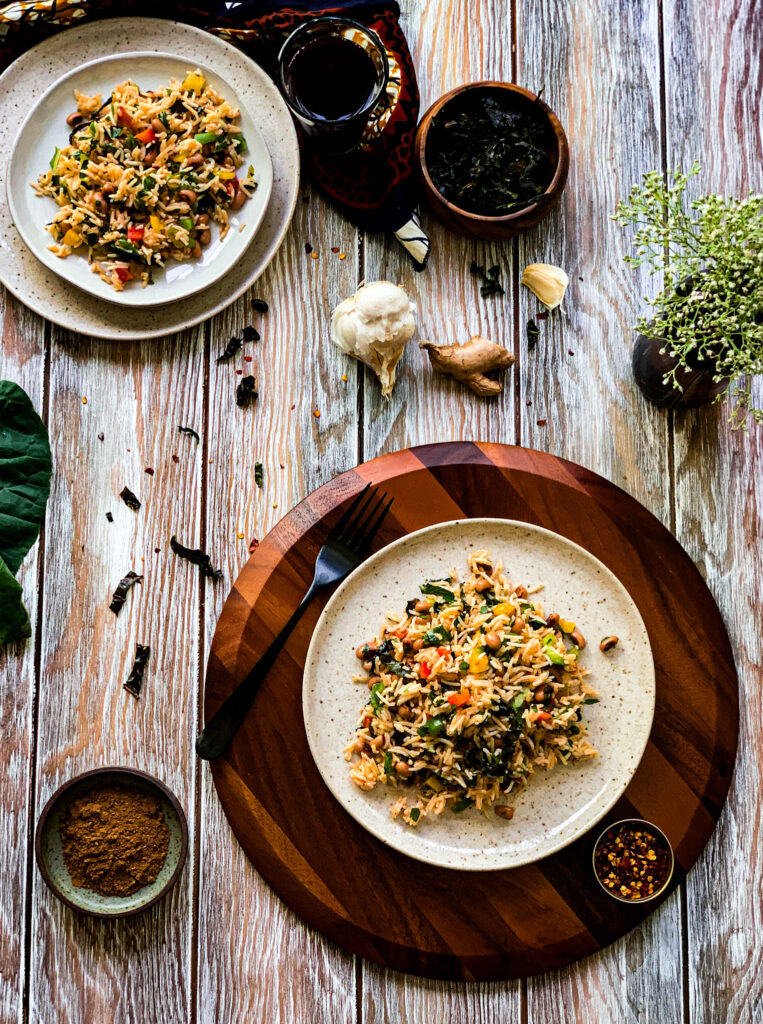 ---
A rice salad filled with bright and nutty flavors, black-eyed peas, crispy collard greens, and tossed with soumbala vinaigrette is the perfect mix of Africa and Southern soul.
---

Celebrating Juneteenth
Join me in celebrating Juneteenth with 18 other Black culinary creators. This year, we are honoring 19 Black American cookbook authors by recreating their recipes, amplifying their work, and sharing our connections to Freedom Day. Juneteenth marks our country's second independence day, the final emancipation of those enslaved in the US was announced in 1865. Share these recipes with your family and help us continue the legacy of celebrating progress. Additionally, you can easily follow each participant by using the hashtag #JuneteenthCookout2022 on Instagram. This collaboration is brought to you by Eat the Culture. Full Juneteenth Cookout 2022 Participant List below.
---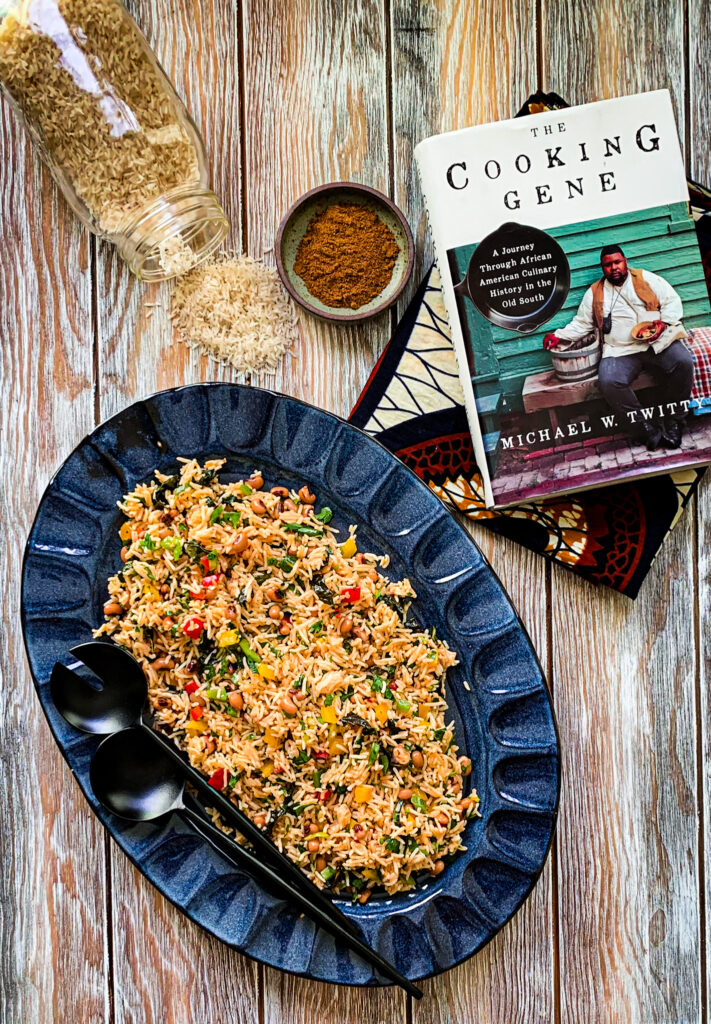 ---
The Inspiration
Deciding what author and cookbook I wanted to highlight for this collaboration was truly a difficult choice. Bryant Terry's Black Food was released earlier this year, Jubilee by Toni Tipton Martin is one of my favorites and Enda Lewis's cookbooks are iconic. However, when I started thinking of my culinary journey and how I've been researching my ancestral history I knew Michale Twitty and his book "The Cooking Gene: A Journey Through African American Culinary History in the Old South" is what I wanted to highlight. More of a history book with recipes tucked throughout, The Cooking Gene articulates the storied history of Black food—American food—filled with joy and also tinged with pain. Twitty writes about this duality beautifully and challenges us not to look away from the past, but to have conversations about change, equity, healing, joy, and taking pride in our food lineages. I had the honor to write an essay about Michael Twitty for Simply Recipes which you can check out here.
---
What Is African Soul Rice Salad?
This rice salad is a reimagining of Mr. Twitty's African Soul Fried Rice which is one of the recipes in The Cooking Gene. Mr. Twitty uses ingredients more traditional or indigenous to West and Central Africa. I also wanted to make this "cookout-ready and thought, "rice is a grain. There are grain salads. Why not make a rice salad with a soulful twist?" I think you'll really like this salad so here's what you'll need:
Long grain rice- I chose to use basmati rice for this recipe but you can use any long grain rice
Scallions, cut thin on the diagonal (trimmed; use white and all green parts)
Red, green, and yellow bell peppers-
Black-eyed peas
Collard greens
Roasted Peanut Oil
Soumbala vinaigrette: We'll get into what soumbala is below
---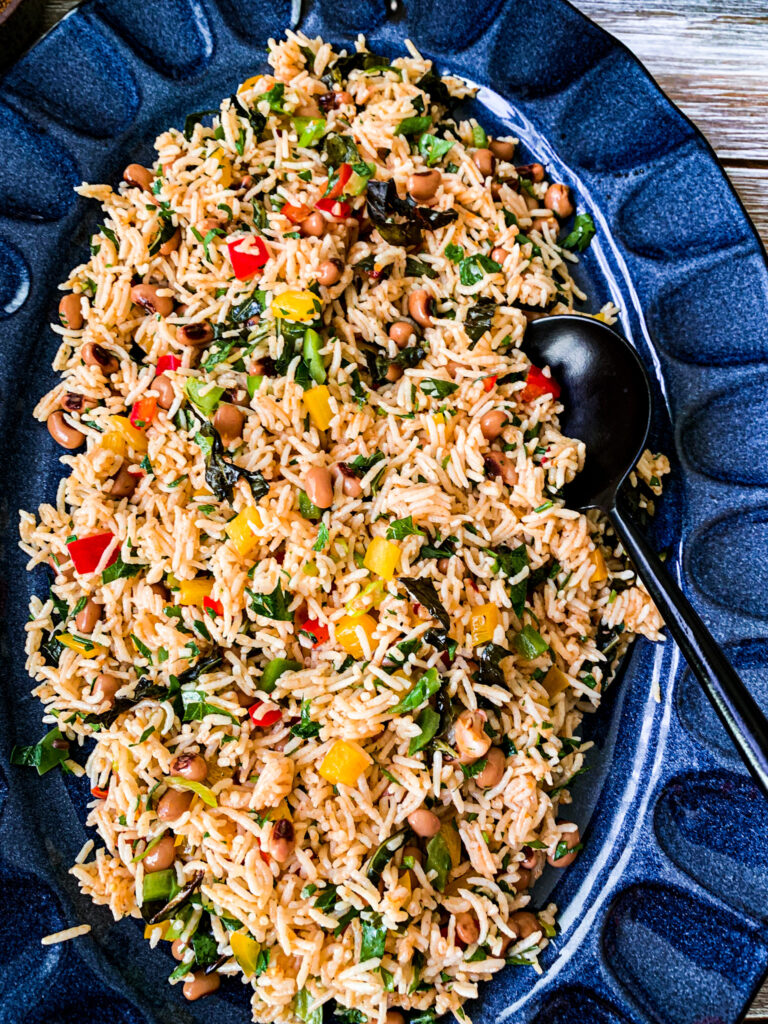 ---
What Is Soumbala?
One of the reasons I wanted to try an adaptation of this dish is that it introduced me to a new ingredient, soumbala. I've recently been digging more into my ancestry and getting more interested in my ancestral ways of cooking and the ingredients that were used. Soumbala is a spice derived from ground locust beans and is widely used in West African cooking. It can also be referred to as Netetou, Ogiri, Iru, or Dawadawa. With a pungent, almost smoky flavor, soumbala has just the right amount of umami. You can find soumbala at African markets or you can also order it on Amazon. If you still have trouble finding soumbala you can substitute Maggi, soy sauce, or even fish sauce.
---
How to Make the Perfect Rice for Rice Salad?
I'll go ahead and say it. Everyone needs to know how to make a perfect pot of rice. Whether you make it on the stovetop, in a rice cooker, or in the microwave; whether you use the 2:1 or knuckle method for measuring water, good rice is a MUST.
Having rice that is separated and tender—not clumpy, mushy, or sticky—is important to make this rice salad great. Here are some things to keep in mind:
Rinse the rice several times, until the water runs clear, then soak the rice in cold water for at least 20-30 minutes. This helps to remove a lot of the starch.
Add some oil to a wide-bottomed then add your rice and stir. You want to make sure each grain of rice is coated in oil before adding the water. This will help keep each grain of rice separate, instead of clumping together—which you may want for another dish but not for this rice salad.
Bring water to a boil then turn down the heat to medium-low and let simmer for 8-10 minutes. After 8-10 minutes remove from heat and let the rice sit for 2-3 minutes covered. Once it's set for a few minutes spread on a sheet pan or cookie sheet and cool.
---
What's the Difference between Peanut Oil & Roasted Peanut Oil?
Peanut oil is available in two forms: plain and roasted. Plain (or cold-pressed) oil is made from raw peanuts and has a very little color, aroma, or flavor. Its neutral taste and high smoke point make it a good choice for frying. It will keep for up to 6 months at room temperature. Roasted peanut oil, on the other hand, is made from roasting peanuts which helps to draw out a rich fragrance and flavor. Roasted peanut oil is very tasty in vinaigrettes like the soumbala vinaigrette for this rice salad rounds out a very unique flavor profile. Of course, if you are allergic to nuts, you can use olive oil or grape seed oil, or whatever oil of your choosing.
---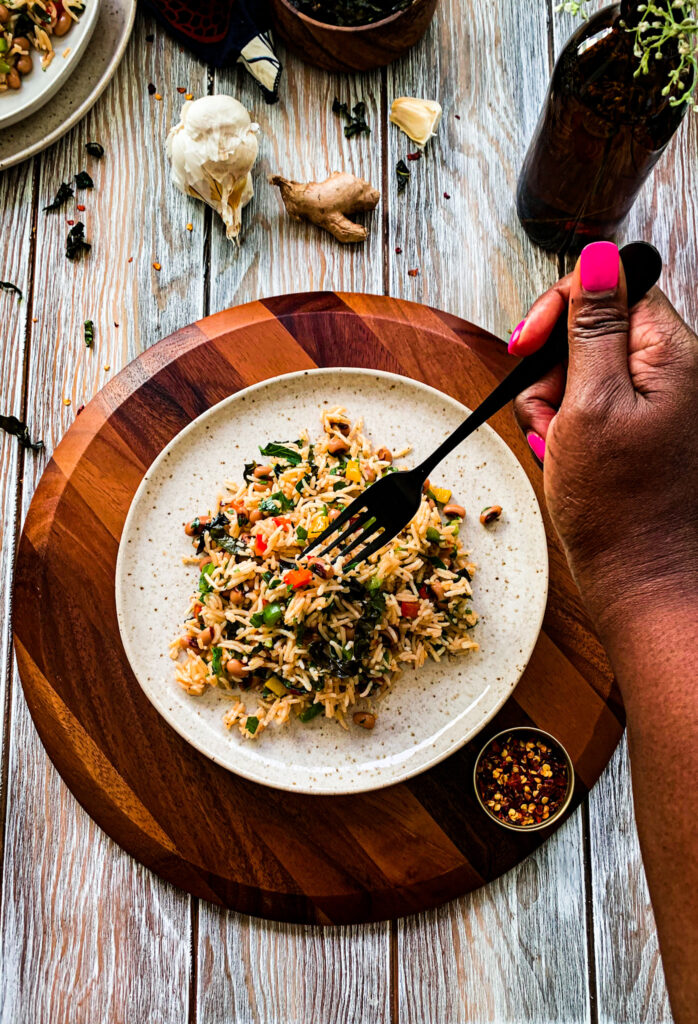 ---
More Favorite Side Recipes
If you love this festive rice salad recipe, try one of these simple sides for your next cookout: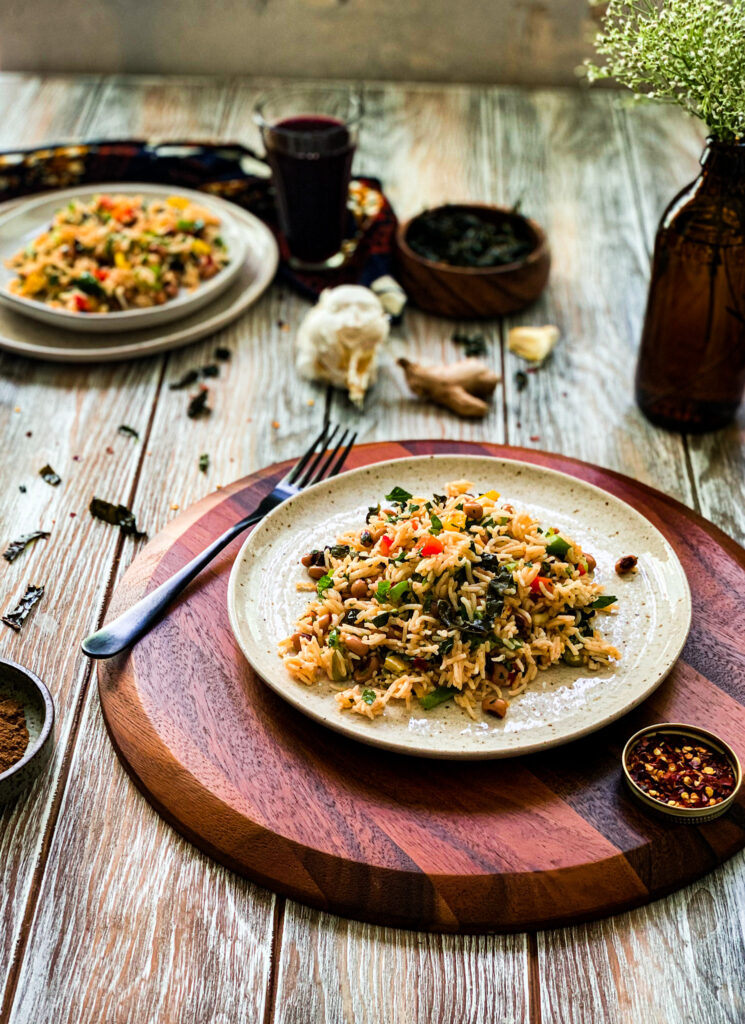 ---
Juneteenth Cookout 2022 Participant List
Print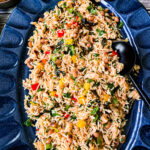 African Soul Rice Salad with Crispy Collards
---
Salad:
1 cup basmati, cooked and cooled or 3 cups cooked rice (you can also use another long-grain rice if preferred)
1/2 teaspoon kosher salt
1 1/2 cups water
2 scallions, cut thin on the diagonal (trimmed; use white and all green parts)
3/4 cups combination of diced red, green, and yellow bell peppers (seeded)
1 cup cooked, of basic black-eyed peas, not mushy & no salt added (you can also use a 14 oz can that has been drained and rinsed)
Crispy Collards
1 packed cup of collards, washed stemmed, and sliced into thin ribbons
2 teaspoons of grape seed oil
A pinch each of salt and pepper
Soumbala Vinaigrette
3 tablespoons rice vinegar
3 tablespoons roasted peanut oil or another oil of choice
1 1/2 teaspoon of soumbala or netetou powder (may substitute maggi or soy sauce)
1 lemon, juiced
2 teaspoons honey or maple syrup
2 cloves garlic, pressed or minced
2-inch piece fresh ginger root, peeled and minced (1 tablespoon)
Generous pinch of crushed red pepper flakes (may substitute hot sauce)
1/8 teaspoon kosher salt
---
Instructions
Make the rice: Rinse rice until the water runs clear, then soak in cold water for at least 20-30 minutes.  After the rice has soaked, drain it. Add 2 tablespoons of oil to a  wide-bottomed pot add rice and stir to coat all the grains. Add ½ teaspoon of salt, and 1 ½ cup of water, and bring to a boil. Cover, reduce the heat and simmer for 8 to 10 minutes. Remove from the heat and let it sit, covered, for 2-3 minutes more. Fluff with a fork and spread to let cool on a sheet pan or baking sheet. Makes 3 cups of cooked rice.
Crispy Collards: Preheat oven to 300°0 Make sure collards are dry, add to a large bowl, and toss with 2 teaspoons of olive oil and sea salt. Spread collards out on a large baking sheet or sheet pan. Bake for 15-20 minutes, until the collards are crisp. Let cool. Best served immediately.
Make the vinaigrette: In a small bowl, whisk together the vinegar, lemon juice, peanut oil, honey, teaspoons of soumbala, garlic, ginger,  red pepper, and salt. Set aside.
Make the salad: Place salad ingredients and rice in a large bowl and gently toss and drizzle with the vinaigrette. Gently toss, top with collards, and serve. Fantastic served right away and even the next day!
Prep Time: 20
Cook Time: 15
Category: Sides
Cuisine: African-inspired